#NBAGMSUMMER IN TWITTER
The Summer Season has begun and things are getting hot!
This year you can also help your team on Twitter, competing each week for a reward of 50 coins that'll go to all users from the franchise that participates the most. If you're interested in rooting on your franchise on Twitter, be sure to follow the following instructions:
Mention

@NBA_manager

.
Use the hashtag of your franchise, for example #LALWins, #NYKWins, etc (all hashtags are shown in the image).
Also use the hashtag

#NBAGMSummer

to be able to see all users supporting their franchises.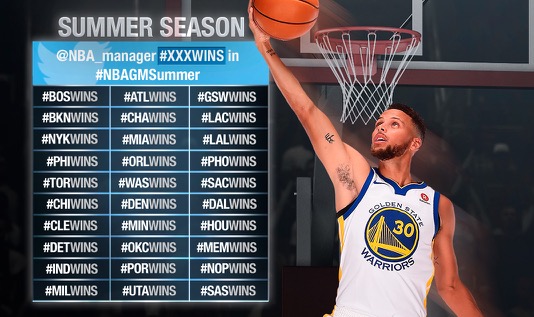 Here's an example of a tweet following the above instructions: "#NBAGMSummer in @NBA_manager. Let's go! #LALWins."
The franchise with the highest amount of participation will win 50 coins. What are you waiting for? Your franchise needs you!